CORPORATE WEAR |
INDUSTRY WEAR |
TEAMS | GROUPS | ORGANIZATIONS
EVENTS | 5K's | FUNDRAISERS
Phantasm Designs has been the #1 source for custom screen printing in the area since 1978. We offer original artwork, superior quality and excellent service.
Phantasm offers screen printing on a wide variety of products and brands. T-shirts, Hoodies, Tank Tops, Pants, Jackets, Bandanas and more. You can view one of our many suppliers on our online apparel catalog. Or call us and inquire about a specific brand. It is more cost effective to order your items directly from Phantasm rather than bringing them in from an outside source.
We can produce virtually any color you wish. We also offer specialty inks, such as metallic, neon or even glow-in-the-dark!
The Screenprinting Process
Custom screenprinting begins with the artwork. This may be a company logo, an event design, team logo or something else you would like screenprinted on merchandise. First, you must decide exactly what you want screenprinted. Most clients have a general idea of what they want before contacting us, some do not. No matter which category you happen to fall in, we can help. Our normal turnaround time is

within 2 weeks. Rush jobs are not out of the question, however. Just ask and we will see what we can do for you.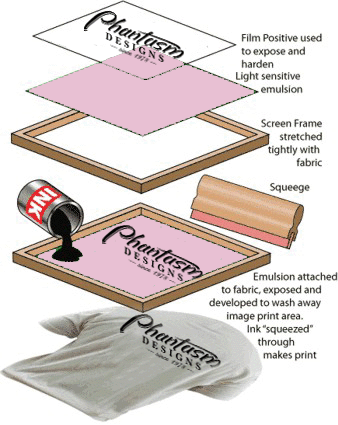 If you already have artwork for your custom
While it's best to have artwork as high in resolution as possible (preferably 300dpi), we'll work with you on whatever you have available.
Providing us with your logo or other artwork in most raster/bitmap image files will be acceptable. However, we prefer .TIF, .JPG, .GIF, .PCX, .CDR, .BMP, or .EPS files.
If you don't have artwork for your custom screen printing design, our Art Department is ready to create the most unique and professional shirt design or logo you can imagine.
Our talented staff can produce artwork suitable for screenprinting on a variety of merchandise. View our gallery of past artwork and designs we've created over the years.
CALL US TODAY 419-523-9006